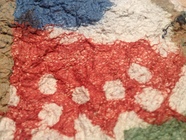 Artist Statement
I chose my media and materials depending on the ideas and structural concept I am pursuing. Conceptually I am interested in the loss of culture especially languages and craft tradition. Of late, I have been making work that refers to the loss of handwriting as evidence of personality, culture and use of our hands over machines. I travel widely incorporating ideas and imagery from these experiences.
As a feltmaker I employ a variety of techniques including collage, strip felts, needle felting, and laminated or nuno felt. I use a variety of fibers from merino wool to silk and synthetics.
In mixed media pieces I use acrylic gels and mediums, dyes, paints, and other mark-making materials on paper, wood and fabric. I incorporate stamps, stencils, screen printing, computer-generated imagery and hand and machine stitchery for additional pattern and depth. For the last three years I have been making a variety of handmade paper objects using both Western and Asian papermaking techniques including 'joomchi'.
Most recently I have been taking on more complex topics such as the loss of memory and environmental degradation and the consequent loss of species, especially primates, in the wild.