Everyone worldwide has been processing their feelings and thoughts about the coronavirus in their own unique way. Artists are a bit lucky in being able to tap into additional languages. I'm no different. I've made perhaps 40 plus drawings or mixed media paintings since we went into isolation in early March. Most of these take a similar form...often a page full of tight drawings made on watercolor paper or canvas paper. Most using markers of various sorts, acrylic paints, inks, whatever comes to hand. Quite a number of pieces are white and black on a Venetian red gesso that Golden Paints no longer manufactures. I don't know why drawing these packed environments is comforting but it is.
Often I begin with calligraphy. I've recently completed an on-line Japanese calligraphy class following months of study of Zen Buddhism, and related topics. It's effortless to begin a drawing/painting with bold strokes of my calligraphy brush. Later, after this layer has dried I just begin filling in. All of these drawings are $450 with a percentage going to Good Cheer Food Bank on Whidbey Island where I live.
For several years I've made mostly smaller objects which are designed to be sold in a studio tour or as has been my good fortune, in a museum shop. I'm fortunate to be a regular artist at Bainbridge Island Art Museum where you can find earrings, necklaces, bracelets, and an array of other objects, each one of kind.
I love the change of scale and the challenge and surprise of finding ways to incorporate odd bits from thrift stores and garage sales. I love going to Zero Waste Seattle's annual takeaway whatever you want sale.
here are some examples of what one might find on a given day.
Adornment and Other Follies
For the last several years I've been producing jewelry, in addition to my exhibition work. The jewelry is sold primarily at the Bainbridge Art Museum shop. I'm very fortunate to have a solid retail presence in a very good venue with lots of visibility.
I sell a lot of earrings there but also a lot of 'one off' pieces that I make just for fun. This just for fun works includes artist books, necklaces, bracelets, small fiber pieces and the like. Here are a few photos of what you might find on a given day.
Every so often I branch out and make something a bit different...different in form, or intention or media. Last year I made, perhaps only my second or third artist book, a piece called "The Genesis of Dogs". It's an apocryphal take on the beginning of things, and not meant to be anything other than that. The dogs on their stands are about 8" tall. There are 15 of them, each carrying one of the stanzas of the text.

Here's the text:
The Genesis of Dogs
by Zia Gipson

Supposedly on the 4th or 5th day, maybe it was later,

God created cattle and creeping things and wild animals of the earth of every kind
(this according to the Vatican),

But critically He left something out, so when he was finishing puffing himself up and patting himself on the back and was distracted making football,

She, the Goddess, stepped in
and on the 8thday she created DOGS,
of every type and size.

There was some reasoning behind this,
as God had screwed up some of the creating bits,

The Goddess figured humans would need dogs to help them cope with all the errors in creation,

And to share the woes that certainly were to come,

Because God's big MISTAKE
was making snakes that climb trees
and talk convincingly about apples.
And so it was. ###


This book, if you're interested, is $150, plus tax if you're in WA State. It's an edition of 10 of which only two have been made thus far.

Read This Necklace Series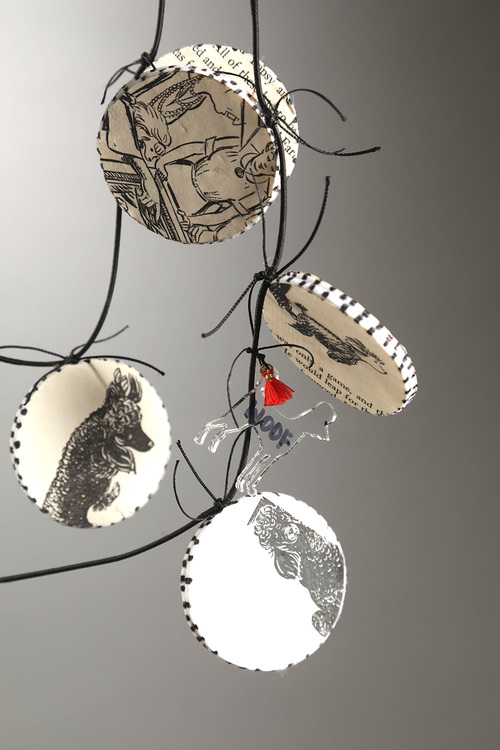 In 2018 I began a series of neck pieces called "Read This Necklace". There are four to date: Font (based on the book "Fine Print on Type"), Blackbird (inspired by Paul McCartney's song of the same name and using the book by Nicholas Schaffner, no image yet), and The Green Poodles (written and illustrated by Charlotte Baker). Here are pictures of two of the necklaces.

2018 was the year I ventured further into personal adornment by launching a series of neck pieces made from joomchi or hand felted paper. Each neck piece is made of paper that has been 'felted' and then treated with konnyaku aka konjak, a plant juice used in Asian papermaking to add strength and some water protection. Then hundreds of circles and attached to a central line made of black elastic. It's a painstaking process with, I think, very nice results. The end results are lightweight and can be doubled up.
Pictured are two versions of the neckpieces hung together.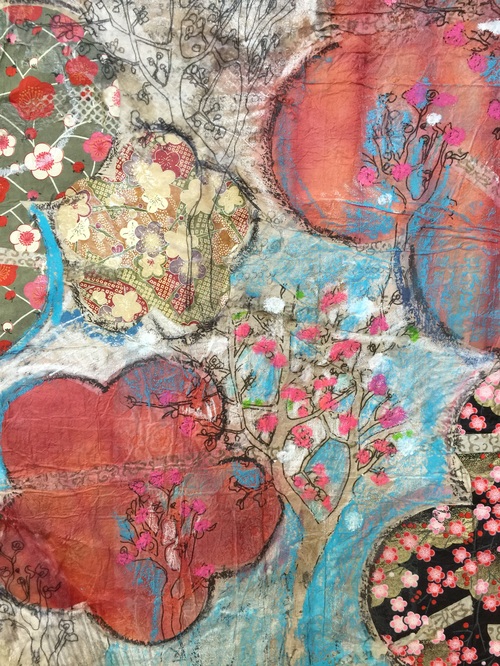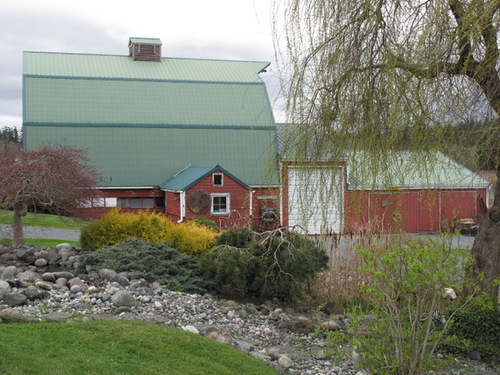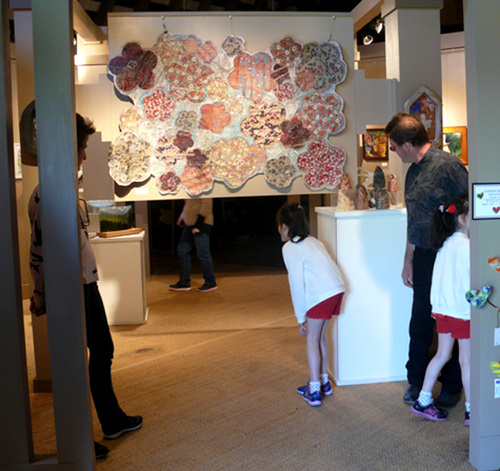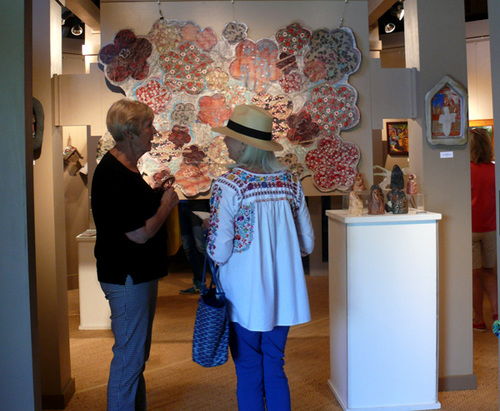 Fast ART came to a beautiful old barn off of Bush Point Road on Whidbey in June when the barn hosted and art by 17 artists. It was just one day but a lovely event. I couldn't help but choose my large piece Flower Power for the show.
Coming in Portland, OR this summer