Bainbridge Museum of Art Installation is UP
5/4/2017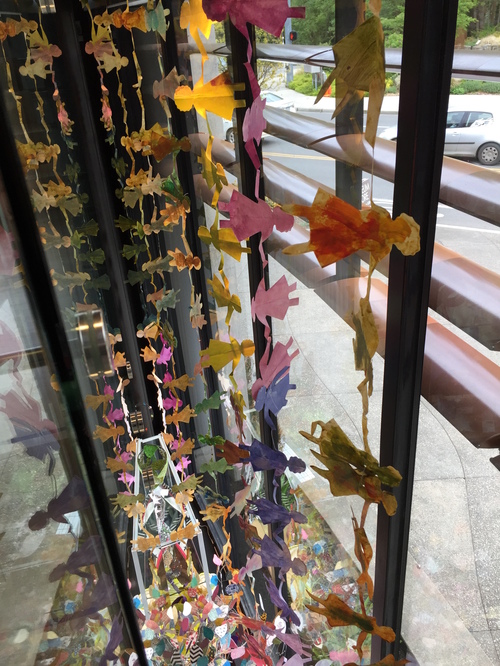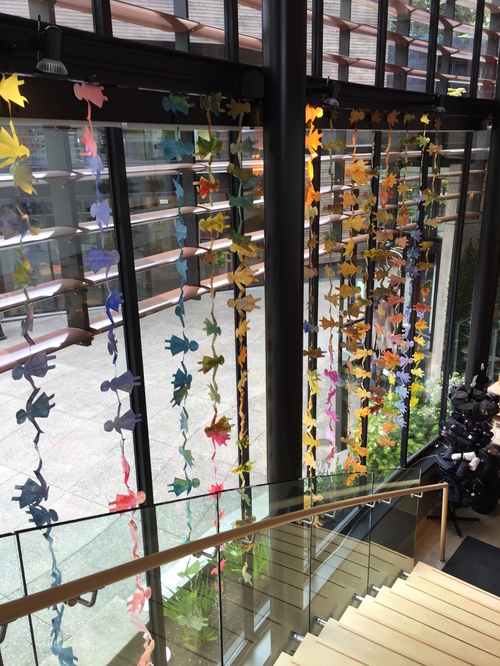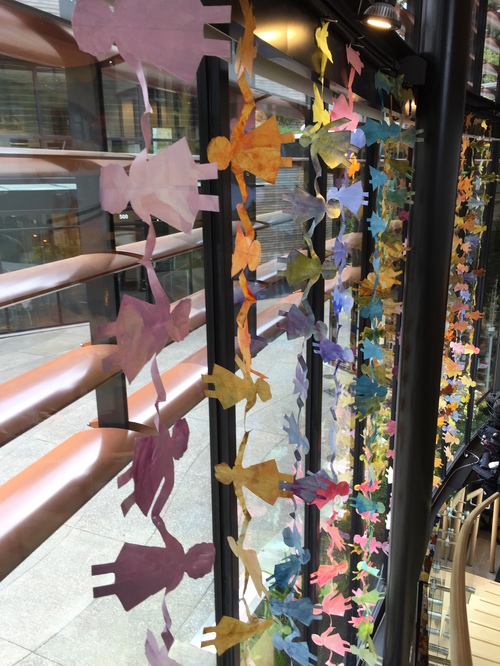 About "Cultural Transformation Redux" by Zia Gipson
The paper dolls in "Cultural Transformation" were born in an installation at the Schack Art Center in 2011. They are one of a number of artworks I've made that looks at loss as part of the human experience. This paper doll installation comments on the way certain types of cultural knowledge is passed on generation to generation. In making this piece I'm noting that after the Internet much of what we learn to make or do we learn from watching an on-line video rather than from another person.
When I was growing up if I needed to know how to make something I would ask my mother, a life-long elementary school teacher, with not a small amount of artist in her. She would sit by my side showing me how to hold the paper and scissors or paintbrush and demonstrate, sometimes taking my hands in hers. As when she read to me at bedtime, I had her full attention, something rare in American homes in these days.
Today, young people learn everything online from coding to crochet and often they take up teaching producing videos at a very young age. While I applaud this entrepreneurial spirit, I think something incalculable has been lost when subjects are no longer taught person to person. While I have no scientific evidence to back up my hypothesis, I believe that personally transmitted information is retained longer in our memories tied as it is to a rich sensory learning experience.

---
Political Two
3/19/2017
You have to have fun. Making paper dolls is part ofmy efforts to reprise an installation I started a few years back. The installation is composed of strings of paper dolls coated with encaustic medium. The work is a commentary on the fact that some of us lucky ones learned things from our mothers...things like making paper dolls and now it's more common to learn these kinds of things on YouTube.
---
Political
3/19/2017
Increasingly, I'm not interested in making art that isn't somehow connected to the issues I care about. Much of my work swirls around what we are losing...environmentally, culturally, artistically...not that we aren't gaining new memes and recirculating ideas that gain new traction with each passing day. But like many others, I feel the losses keenly. I'll miss the clear vista from my house when it fills up with other people coming to live in this beautiful place. I'll miss my mother who set me up with scissors and paper at a young age and launched my life with heb blessings of energy and love and passion for making things. I miss the animals I haven't met but I know are put down because their owners have forsaken them and because they are not lucky enough to be adopted into a first world home. You could call me an optimist with a big sigh...struggling to get up and find meaning every day and yet so grateful. I used to have a card on my office bulletin board that said, " Happiness is a form of gratitude". I'm trying to live this, some days more fruitfully than others.
---
Gratitude
3/4/2017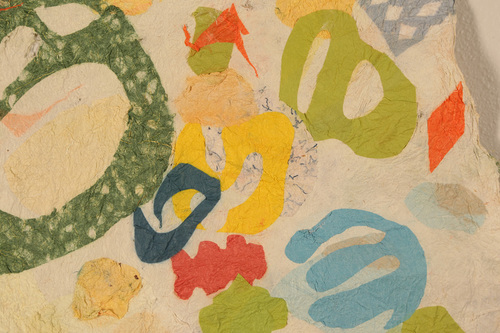 I am deeply indebted to Jiyoung Chung and to Aimee Lee, exemplar Korean artists living and working in the United States. Through your teaching and friendship, you've given me joomchi and so much more. I took a short class with Jiyoung one February when she was visiting Whidbey Island and later the same year had a class at the book arts festival in Pacific Grove, OR with Aimee.

Later, I studied more extensively with Jiyoung during a class at the Pacific NW Arts School on Whidbey Island. I've stayed in touch with both of these remarkable, accomplished women and wish them continued success with the teaching, writing, and exhibition programs. I recommend them both to anyone, wanting to explore the wonderful world of handmade Korean paper.
---
How To Hang
3/3/2017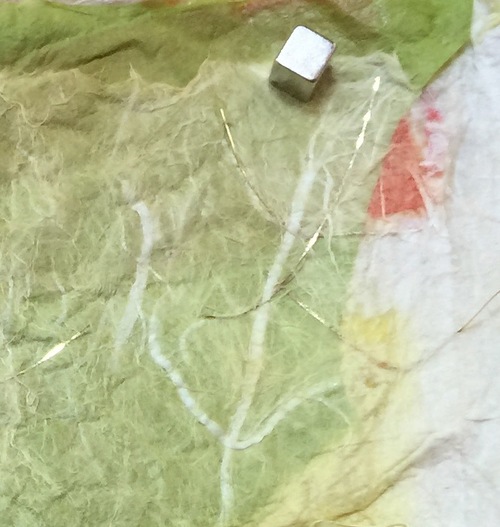 I'm a big fan of small powerful magnets. That's how I hang most of my paper pieces. The artwork comes with very small powerful magnets. All you have to do is put some kind of magnetic screw/tack or other metal device in the wall, and put the artwork against it. Then the magnet on top.

Since the felted paper pieces are light weight you can usually safely hang these with only one or two magnets.

I provide magnets and wall bracket with purchase.

Of course, these pieces look beautiful under frames but that's up to you ;-).